tags:
charity
,
children
,
donate
,
donation
,
food
,
help
,
kids
,
orphanage
,
Peru
,
poor
,
smiles
,
smiles in Peru
,
social work
,
sonrisas
,
sonrisasenperu
by scott
I wanted to dedicate a post to all the wonderful people who have donated and helped realise the sonrisasenperu dream of helping those in poverty. I received an email from Elissa, an Australian living in San Diego, who donated money and requested I use the money for the almost 100 children of Westfalia Orphanage. Upon sending her photos of the kids with the food that her money paid for, I learned that part of the donation was on behalf of her sister, Leanne (Geelong, Australia), who had requested that instead of a birthday present she wanted money donated to a charity. Amazing!

So thank you to Elissa and Leanne and all those who have donated to help those less fortunate then ourselves. One of our main projects is Westfalia Orphanage due to the incredible difficulties this non-government orphanage faces. It provides housing, education, and psychological assistance to  almost 100 orphans, victims of family violence and abuse, abandoned, or homeless children. Being a non-government orphanage, the only assistance it receives from the Peruvian government is a monthly quota of rice, and it is nowhere near enough to  provide for the kids. So every week I try to take up fruit or basic foods such as rice, beans, wheat, pasta and meat when funds allow.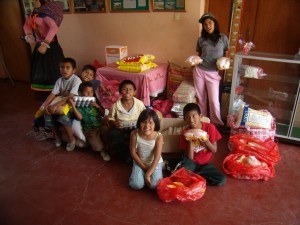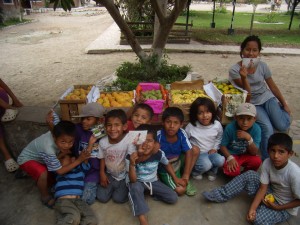 We also receive wonderful donations in the form of clothes, shoes, appliances, books, pens, pencils, paper and food. So a big thank you to those that have helped out. We have even received items from overseas; people bringing things with them when coming to Peru. Great effort! Some have even sent care packages! We use these items to help out the 100 kids at Westfalia Orphanage as well as poor families unable to keep up with the needs of their families.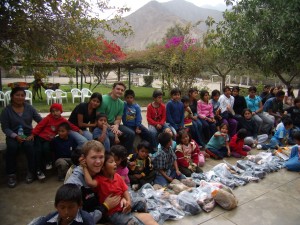 If you would like to help the cause, send a donation. $20 buys a crate of most fruits here in Peru. A 50kg bag of rice is about $45. Also feel free to post on your facebook to help spread the word! Thank you for your support and helping to make a difference in the lives of others less fortunate than ourselves.