One of my favourite projects to do is to help families in extreme poverty and try to make their lives a little easier. The director of a very poor school in Agustino, on the edge of Lima, Peru introduced us to Alejandra, who was from my one of the poorest families at the school. Alejandra is a 7 year old girl who lives with her mother, aunty and 77 year old grandmother. Her mother is uneducated and unemployed although occasionally works at the local markets making fresh orange juice or washing clothes. Her aunty has kidney renal failure, and needs dialysis three times a week to drain the body of fluids, toxins, and balance electrolytes, which usually your kidneys would do. She has had this condition for over 20 years and needs a kidney transplant. Alejandra's father left when she was 3 months old and has had no contact with her since and provides no money.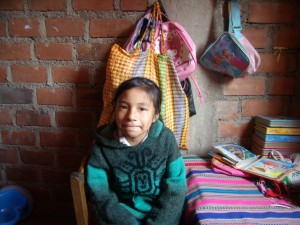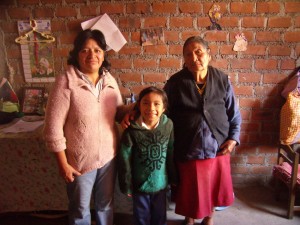 The area where they live is dangerous, very poor, dirt roads, no parks, and poor water cleanliness (there is a need to boil all consumable water). Their living conditions are poor, they don't have a bathroom, shower or running water. They share a communal bathroom/shower behind their apartment with 4 other dwellings. Their apartment has windows but no glass attached and only covered by loose material and is cold at night. They have concrete flooring, a small stove which runs off a portable gas bottle, no fridge and the beds are in terrible condition (one was an old fold-out spring bed which must have been at least 30 years old). Their rent is 200 Peruvian soles per month (US$ 75). Due to the unemployment of Alejandra's mother and the medical problems of Alejandra's aunty and the age of the grandmother, they struggle week-to-week and it was very evident in their living conditions and lack of food.
Alejandra has few books, and they are mostly toddlers' jigsaw books with missing pieces. When asked what she would like most she said food after hearing her mother say the same, but when pressed she teared up a little and mentioned toys because she only has the soft fluffy toys she has had since being a baby. She mostly wore the same old clothes on various different meetings and there wasn't a lot of food in the house. The director of the school told me Alejandra is a keen student, extremely well behaved but behind the level of the other kids, particularly in mathematics (probably due to her mother being unable to help her with homework due to her own poor education level). Personally I was struck by the sweet nature of Alejandra and how happy she seems to be regardless of their financial situation.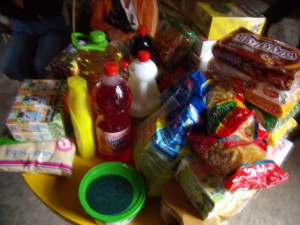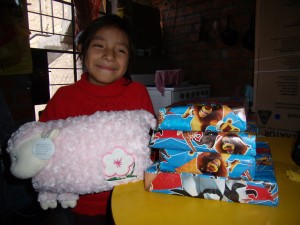 Our initial concern for Alejandra and her family was their lack of  food. On Sunday 29 July we delivered various foods, rice, beans, sugar, washing powder, soap, shampoo, toothpaste, cereal, cooking oil, etc. In August we also delivered some gifts for Alejandra…much needed clothes, books, some educational games and toys and a set of dolls. We  set up weekly tutoring for Alejandra to help improve her level. We also want to help her mother to be more self-sufficient and be able to provide for her family. We are discussing the possibility of providing a small portable cooker for her to sell hamburgers and snacks in front of the school or in the markets.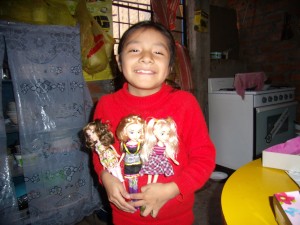 Sadly Alejandra's case is not unusual in Peru. For so many families it is a daily struggle to survive. We really need to be thankful for having clean water, for having food and receiving a good education. A big thank you to Bec and her friends in Australia for wanting to make a difference to a poor family here and donating money to make this possible. We'll keep you posted on Alejandra's tutoring and school results! We want to help out as many families as possibly, particularly coming up to Christmas. If you are able to help us continue with these incredibly important projects please send us a donation, and remember every dollar counts! You can also specify exactly what you would like to do with your donation. Sometimes people want to buy food for Westfalia Orphanage, clothes or shoes for the poor, etc.
Thanks for keeping track of what we're up to! As always, feel free to share this on Facebook or email your friend to try and spread the word. Thanks!