Westfalia Orphanage 2011 Christmas Drive
On December 17 we're hosting our annual Sonrisasenperu Christmas party for the 100 kids of Westfalia Orphanage. These kids all come from broken and abusive homes, abandonment or their families had to give them up as they simply don't have the money to care for them. These kids don't have toys, video games, televisions or any of the things we took for granted as kids so we want to brighten up their Christmas which is traditionally a sad time for them as they don't have the family time we all have.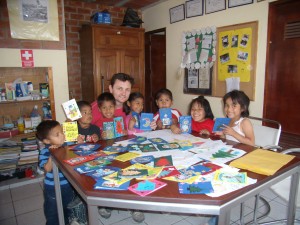 We started to get the children to write letters asking for what they wanted for Christmas and noticed that instead of asking for Barbie dolls or toy trucks, the kids were generally asking for food and fruit! Some were also asking for their school text books for the following year (since they generally had to copy the teachers' books the whole year as they couldn't afford their own). But we're going to organise each child a present anyway as well as throw a party for the kids with food, drinks and lots of games. We're even going to try and hire a jumping castle depending on the costs … BUT we need your help! If you can help out please send us a donation, and remember every dollar counts! And if you would also like a Christmas card that the kids personally made send us an email. If you're here in Lima Peru and want to donate a gift, please send us an email.
You can also see photos of the children at http://thechildrenofwestfaliaorphanage.wordpress.com/up-close-and-personal-individual-photos/ or check out more info on Westfalia Orphanage