Westfalia Orphanage swim classes
As well as the ongoing dance, drama and English lessons, sonrisasenperu.org is providing swimming lessons for the children of Westfalia Orphanage. Twice a week we take the children to the local swimming pool and provide learn-to-swim classes as well as basic water safety. As well as building the kids' confidence in and out of the water it allows a fun break from the 24/7 life at the orphanage.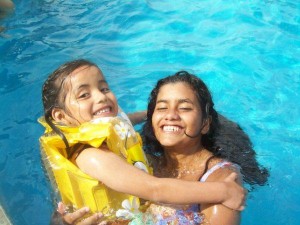 Providing these ongoing classes incur costs such as payment for the dance and drama teachers as well as their transport costs to remote Cieneguilla, English textbooks and materials, pool entrance fees, purchase of floats for the smaller children, etc.
You can help by clicking the donate button. Or read more about Westfalia Orphanage.