Westfalia Orphanage is a non-government rural orphanage on the outskirts of Lima, Peru and home to around 100 children from a few months old to 18 years old. Receiving only a monthly quota of rice from the government the orphanage struggles to care for these children from all kinds of backgrounds, physical, sexual abuse, abandonment, street kids or simply where their families cannot afford to feed and take care of them. With your support we recently helped provide a clean drinking water system for the kids. Previously they were using the contaminated local river water  for drinking, bathing and washing with. Now they need our help once again.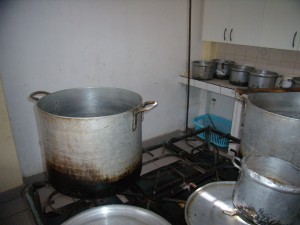 The kitchen stove pictured above has served the orphanage  since it began 20 years and is now well overdue for a replacement. The stove initially had 6 burners, of which only 2 presently work. The other 4 have malfunctioned, including gas leaks, to the point where they had to be removed. This industrial stove is the only means of cooking for the 100 children and over 20 carers and uses huge pots that hold around 200 litres (50 gallons). Cooking in a regular home for a family would be difficult with only 2 functioning cookers, so cooking for well over 100 people with only 2 is almost impossible. Not to mention the safety concern with such an old stove with a history of gas leaks.
The quote for a replacement stove (the same commercial brand as the existing stove) is US $1,150 (or S/3000 Peruvian Soles). There is also a need to replace the small pots used to carry food to the individual  seven houses. The current pots are often missing handles, have leaks and are in a terrible condition. So we are hoping to raise a total of US $1,500.
If you would like to help, please send a donation. If you aren't financially able to help, you could help spread the word and tell your friends and family about www.sonrisasenperu.org. Share this post on your social media or forward the email. Thank you for your support and helping to make a difference in the lives of others less fortunate than ourselves.